The best American-made product just may be snark.
At least thats the impression from the reaction to President Donald Trumps Made In America campaign.
The president declared this week Made In America Week, in an attempt to promote products made in this county.
Although buying American is a good way to ensure fellow citizens continue to have jobs, Trumps declaration of the week also calls attention to the fact that his Trump-branded products, such as mens clothing,have been made in Mexico and Chinaand that he has usedsteel and aluminum from Chinain his construction projects.
Thats a lot of hypocrisy to keep track of, but that didnt stop MSNBC. On Monday when Trump was touting U.S.products, they kept it real and trolled the Donald at the same time with this completely truthful, yet hilarious chyron.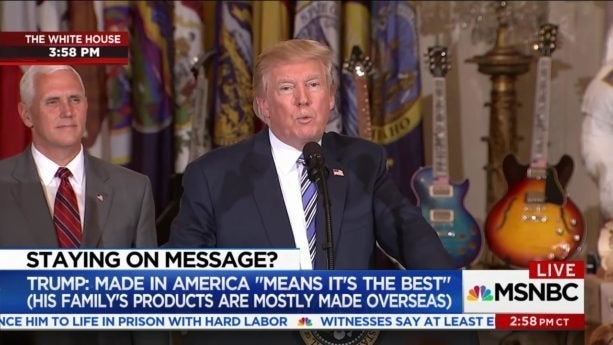 Read more: http://www.huffingtonpost.com/entry/donald-trump-msnbc-chyron_us_596d4b51e4b0b95f893d91a0